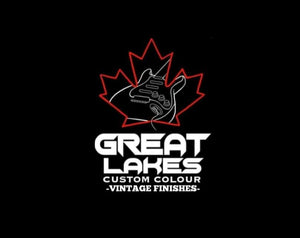 These prices reflect bodies and necks that are sent to us stripped to bare wood or a new guitar body or neck part that's unfinished.

Any poly finish needed to be stripped will have a 150$ fee. (No Bound Bodies)
Stripping a nitrocellulose finish is 125$.
We only use Nitrocellulose Lacquers for finishing.
You must pick a colour/colours and ageing package with purchase. Please read over them in custom orders/our aged finishes.
Our Packages

We've updated our packages to make it easier on our customers looking for specific finishes while not confusing them with others and separating yellowed lacquer top coat ageing.
GL Lush - Very light ageing. Little to even no lacquer checking, very little dings dents and wear. Replicating a guitar that was played and well cared for. 
*GL Lush Plus- This finish is the same as the original package but with added lacquer yellowing
GL Lite - Light ageing. Lacquer checking with light chips, dings and wear. Lacquer lightly sunken into the grain. Replicating a guitar that was played but mostly aged in its case for 70 years.

*GL Lite Plus - This finish is the same as the original package but with added lacquer yellowing.

GL Journeymen - Medium ageing. Moderate/medium dings and chips, lacquer sunken into grain patterns, lacquer checking and playwear.

*GL Journeymen Plus - Same as original package but with added lacquer yellowing.

GL Aged - Aged (including arm wear) chips, dings and playwear, lacquer sunken into grain pattern, lacquer checking.

*GL Aged Plus - This finish is the same as the original with a heavier yellowed appearance.
Finished in a flashcoat or true historic finish.

The Flash Coat Finish

Why we use a flash coat finish. Simply put. It makes the guitar instantly feel broken in and aged. It's different from a high gloss factory finish. It's still a gloss finish. Less degree of shine and it melts into the guitar beautifully leaving a broken in feel that's ultra thin. Fender uses this on their high end 50's custom shop telecasters and recently their Vintage Custom 50's Pine Esquire. Gibson used this method heavily for a time period around the 60's before their final buff.

True Historic

Very thin lacquer that is wet sanded between coats and a final cut and light polish to replicate an old finish.
Colours include but are not limited to,
Aztec Gold
Arctic White
Black
Buttercream
Blond
Butterscotch Blond
Broadcaster Blond
Nocaster Blond
Burgundy Mist
Candy Apple Red
Candy Tangerine
Candy Apple Green
Daphne Blue
Desert Sand 1955
Desert Sand 1959
Dakota Red
Fiesta Red
Sonic Blue
Lake Placid Blue 1962 (Lighter Version)
Lake Placid Blue 1964 (Darker Version)
Metallic Purple
Dark Metallic Purple
Inca Silver
Firemist Gold
Classic Copper
Shell Pink
Shoreline Gold
Surf Green
Sea Foam Green
Sherwood Green 1957 (Lighter Version)
Sherwood Green 1963 (Darker Version)
Ocean Turquoise Metallic
Teal Green Metallic
Tahitian Coral
Taos Turquoise
Olympic White
Vintage White
Pacific Peach
Faded Daphne Blue
Faded Sonic Blue
Faded Surf Green
Faded Sea Foam Green
Faded Fiesta Red
Faded Shell Pink
Faded Tahitian Coral
Faded Dakota Red
Faded Sherwood Green
Faded Burgundy Mist
Faded Lake Placid Blue
Faded Capri Orange
Faded Tahitian Coral
Surf Pearl
Black Pearl
Shell Pink Pearl
Sea Foam Pearl
Olympic Pearl
White Pearl
Cimarron Red
Faded Cimarron Red
Alpine White
Cherry
Polaris White
Polar White
Olive Drab
54-57 Two Tone Sunburst
58-64 Three Tone Sunburst
64-66 Three Tone Sunburst
54 Chocolate Two Tone Sunburst
59 Chocolate Three Tone Sunburst
Mystic Sunburst
Tobacco Burst
Cherry Burst
Silverburst
Dark Night Burst
Sparkle Burst
Mocha Burst
Candy Burst
TV Yellow
LP Gold
Antique Natural
Walnut 522
Trans Sonic Blue
Trans Daphne Blue
Trans Shell Pink
Trans Seafoam Green
Trans Fiesta Red
Trans Dakota Red
British Racing Green
Dark Blue
Orange
Dark Mocha Brown
Mystic Dakota Red
Oxblood
Frost Gold Metallic
Bob Weir Pink
Sage Green Metallic
Arizona Sun
Navy Blue Metallic
Violet
Antique Olive
Sky Burst Metallic
Pewter Metallic 
Mystic Sea Foam
Cardinal Red
335 Cherry Red (Solid)

*Sparkle Finishes (Large Flake)
Silver Sparkle
Purple Sparkle
Green Sparkle
Teal Sparkle
Gold Sparkle
Copper Sparkle
Pink Sparkle
Sapphire Sprakle
Orange Sparkle
*Extra Charges for bound bodies 100$

*Extra Charge for colour over Sunburst
* Reach out to us via email, Send us your part. Once we receive if we will notify you and go over your plan for your part. Any major sanding or repairs will be communicated to you and either sent back to you or an extra charge will apply. 
Any questions, please email us email us.
*Once your order is placed you will be contacted by us to discuss your Guitar Body and or Neck. Any questions prior please email us.
greatlakescustomcolour@outlook.com