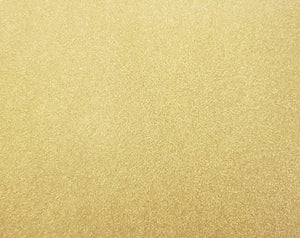 Did you ever notice that not every Gold top throughout history looks the same? We did. After being asked by a great builder to replicate several Gold tops throughout history we created other variations for you to use. Clearly over the years several golds have been used by Gibson in finishing.
This colour was sprayed on the earliest Les Paul and has been a staple for Gibson ever since. The earliest ones were sprayed all gold. Most people thought it was a bit much and they switched to just the top. Your top must be perfectly smooth and flat before application. Our aerosols make it super easy with little to no clean up and no cleaning your gun. Apply until good coverage is made. Then clear coat or age to your liking with our aged clears. Mixing this should not be done in large batches. It is mixed and filled fresh when ordered. Brass and Copper flakes don't keep/store well in lacquer for long periods of time.

Modern Factory Gold - This uses standard smaller gold flakes to replicate Modern Gold tops and will not have a patina/age as time goes on.
Murphy Lab Gold Top -  This is aged and looks like a boutique guitar finish from the early 50's that has aged gracefully with natural patina. It looks like it's right out of the Murphy Lab.
Pale Gold - This is a brighter top version that will have a patina as time goes on.
Gold Sparkle - A larger flake for that added sparkle for any gold finish.