*Regarding custom orders. My father has retired this year. This has essentially doubled my Timelines for custom orders. My brother has joined us as a master builder and finisher. We're working hard to get custom orders out. *Please do not ask for updates or progress pictures. We can either be answering emails or finishing orders but not both. 20 weeks plus is the minimum for custom orders right now.
Start with "Shop All" to get all of your colours, finishing products and finishing services available.
We can match any colour you need. (Even to pictures provided) Prices can be found under Custom Orders. This is also available for custom bodies.
Please read everything thoroughly on our website and familiarize yourself with our services, timelines and process.
Pretty much everything you've heard on the internet about Nitrocellulose Lacquer is misinformation. Take caution on Youtube and avoid Forum Bullies preaching/pushing their views. No doubt some people are only trying to help but honestly there is more bad information than good. Only a handful of people actually make/mix these products daily. Other companies have their aerosol cans filled by a third party company and sell them retail to you after who knows how long. They need to move their products before the lacquers shelf life ends. Lacquer itself has a shelf life of about 3 years. Once pigments, Dyes and more importantly metal flake are added it significantly reduces its shelf life making them spoil quicker. Imitation is the sincerest form of flattering, just ask Oxford.
If you have any questions after that, please EMAIL us.
A full walk through of the finishing process for DIYers can be found under "The Finishing Process".
If you have any questions please EMAIL us.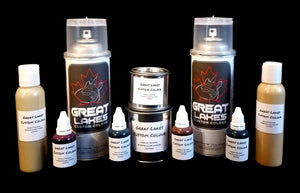 Our Products
These are professional grade finishing products. Made available to even the DIY market through custom filling. After years of developing and creating North Americas best colours we've developed a system to offer them to everyone. We have our own aerosol filling machine for the DIY builders or standard tins for professional builders. We aren't your everyday retail store. Everything is mixed and made fresh when ordered.
All of our lacquers are now available in custom filled aerosols, 4oz, 8oz , *Quart and *Gallon variations. Our lacquer is the highest quality in North America and is supplied ready to spray. This ensures you have the best nitrocellulose possible and the right amount for any project you may have. Whether you are a first time finisher or a professional builder we have exactly what you need to get the job done right with the right colours. We've done everything from guitars, motorcyles, cars to custom paintings.
We are the only shop in North America to mix and fill orders fresh when ordered. You can be assured you're getting fresh products that haven't been sitting on a shelf for over a year. Every order with us truly is a custom order filled just for you.
Our dyes are world class. They are able to be mixed in almost anything. Water, Alcohol, Lacquer Thinner etc.
Our wet sanding and polishing kit is the best you'll find and is specific for nitrocellulose guitar finishing. Allowing you to sand less and still achieve the level of mirror finish you're after.
A lot of years and attention to detail have gone into our colours and finishing products. There isn't a shop around that provides what we can provide for your build as far as finishing goes.
Please feel free to browse our large selections of finishing products, colours and custom guitar parts to set your build apart from others.
Custom Shop
Our Custom Shop Builds rival the best in North America. These are all made to vintage specs. They fit and can be paired with any Fender/Replica parts or hardware such as Kluson, Wilkinson, Allparts etc. Finished in your choice of colours.
We have updated our custom order process to make it a very simple process. Select your body and finish. Orders take 20+ weeks for bodies and necks 36+ weeks for builds.
With the best selection of Custom colours and Vintage colours available to you your options are endless.
https://greatlakescustomcolour.com/pages/custom-orders

Custom Lacquer Orders
Check our custom order page or contact us to get started. We supply great builders in North America with the guitar finishing products they need to get their builds right and set the apart from anything else you'll find.
We also do custom colour matches such as TV yellow or year specific bursts, alter in stock colours and help with finish repairs. With decades of experience we have the knowledge to help you with any project or issue you may have.
Finished Vintage Bodies and Custom Orders
Sealer, Primer, Clear Coats & Finishing Supplies
Testimonials
"I would like to thank Great Lakes Custom Colour for their great service. I sent a question by email after hours and still received a reply within 3 hours...totally unexpected. With my answer I made my order and it arrived 2 days later. If the product is half as good as the service I'll be happy."

Mike
I can't say enough about how impressed I am with my experience with Great Lakes Custom Colour. The customer service and support received since my initial email has been truly exceptional. Great Lakes did research on Gibson factory colours and provided custom paint matches for a nominal fee within a week of my request. I've bombarded them with countless questions on the finishing process via email and have been met with timely responses, advice and resources to ensure my project is a success. I HIGHLY recommend trusting Great Lakes for all your refinishing needs. This is the company to order Nitro from in Canada. Thanks again Great Lakes!

Dan L